Let's cut to the chase: which push notification service will give you the most bang for your buck?
This should be your litmus test in choosing which push notification service is best for your business. But how would you know?
And what are push notification services anyway?
Why would you seriously consider them for your business?
Good questions. We will answer them here.
What Are Push Notification Services?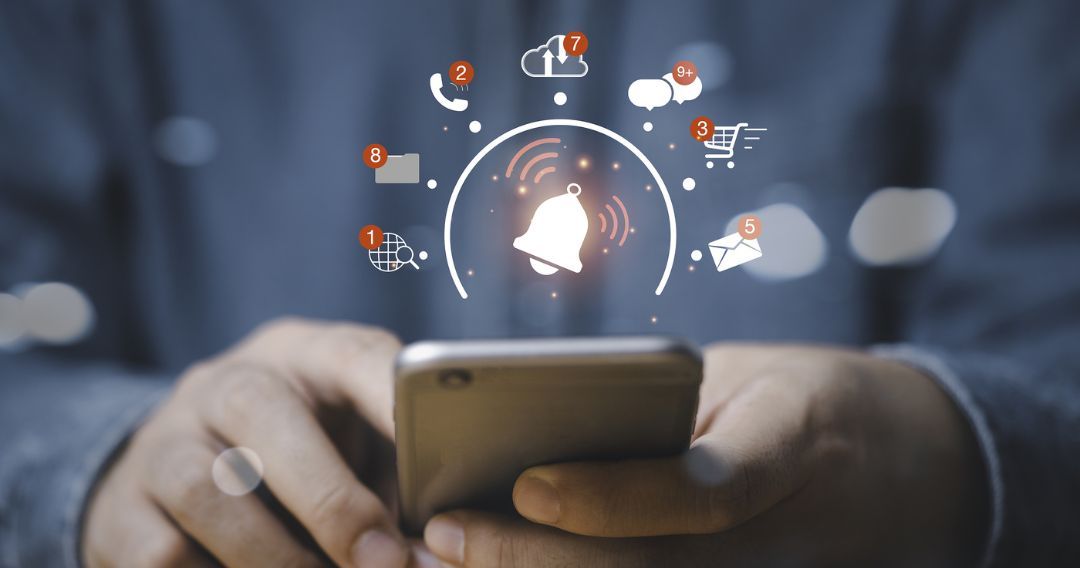 If you want to reach your audiences and customers directly, you will want to use push notifications for your business. Push notifications offer fast, real-time, and targeted messaging. They have much higher delivery, open, click, retention, and conversion rates than emails.
Push notification services provide you with a platform to create, schedule, and deliver messages to your online audiences. This can happen whether your business has an app or not or whether your users are using your app or not.
Sure, you can build this infrastructure independently on your website or app or make it an MVP if you have the resources for it. But using an established push notification platform instead saves you a lot of bandwidth.
By using the best push notification service for your business, you can easily:
target the right users;
stimulate user engagement;
re-engage and retain users;
track actionable metrics;
increase conversion rates;
reduce the investment of effort and resources in users' customer journey;
improve your customer care strategy with useful content;
enhance your customer experience with your brand; and
strengthen and amplify your brand consistency.
E-commerce businesses are the biggest senders of push notifications, followed by media, publishing, and blogging. These two industries alone account for 40% of businesses sending push notifications. The next three (3) top sending industries are banking, financial services, and insurance, or BFSI (8%), software and SaaS businesses (7.6%), and digital marketing agencies (7.5%).
Factors to Consider When Choosing a Push Notification Service
There are many push notification services out there, and obviously, they are not all the same. Some cater to small and medium businesses, and some cater to bigger, established brands, each with different features offered. How do you choose?
Before we present you with the 15 best push notification services in 2023, consider these key factors first:
Pricing. Does the push notification platform match your budget? No matter how popular or how many features it offers, if you can't afford it, don't even go there.
Delivery Rate. This is the ratio of the number of delivered and sent notifications. Although the delivery rate ultimately depends on users' devices, it is also influenced by the push notifications platform's delivery efficiency. What is the push notification service provider's delivery rate?
Customization. How well can the push provider customize your notifications to your brand?
Analytics and Reporting. How detailed, relevant, and useful are the data analytics and reporting provided by the push notifications platform?
Integration with Other Tools. How easily can the push provider's service integrate with browsers and other tools?
Support. What kind of support does the push notifications platform provide? Will they be there to assist you promptly, 24/7, when you need them?
Reviews. How have users of their push notifications service experienced them? How well do they recommend them?
The key is finding a good fit between your business needs and the push notification service provider you will choose.
III. 15 Best Push Notification Services In 2023
Given our suggested criteria, here are the 15 best notification services we recommend for your business. Some of them are more well-known than others, but all have robust functionality. We highlight their key features, pricing options, and why you might want to choose them.
1. Subscribers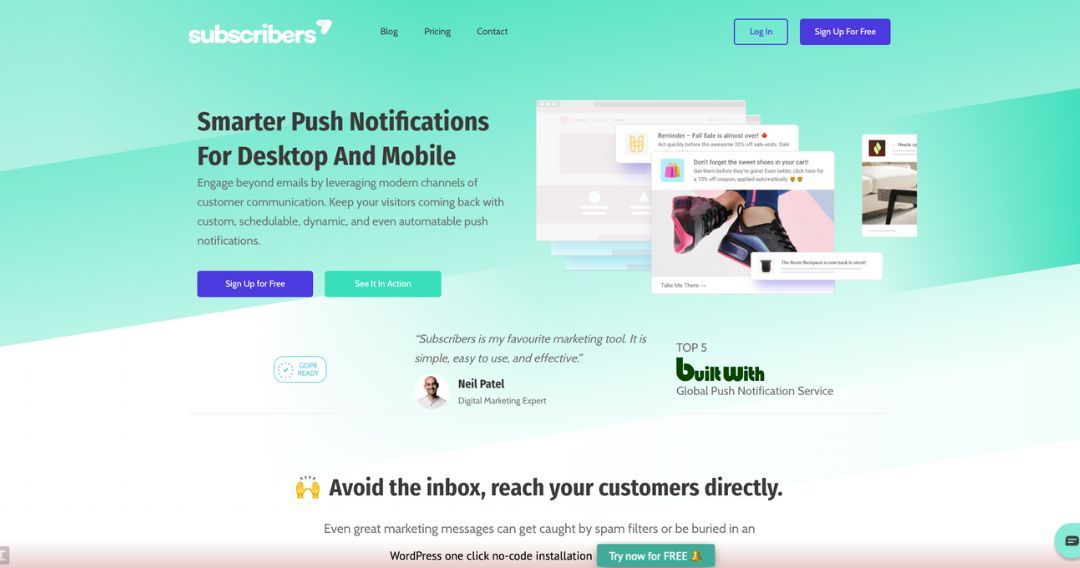 Recommended by digital marketing influencer Neil Patel as "simple, easy to use, and effective," Subscribers has over 10,000 users worldwide and is growing.
Key Features
Custom, schedulable, dynamic, and automatable push notifications
High delivery rate, even if your subscriber isn't online when your message is sent
Advanced message scheduling
Geolocation targeting
Powerful segmentation tools
Cart abandonment reminders
Welcome drips' average click-through-rate (CTR) is 14%, seven times more than the average email welcome series CTR
A/B testing
Web push notifications for both desktop and mobile, spanning most major browsers and devices
Deep integrations with e-commerce, digital learning, and digital solutions platforms such as Shopify, Thinkific, Vendasta, and more
Offers the best WordPress push notification plugin
Daily analytics with smart recommendations
Prompt, 24/7 support
Low-cost, high-impact plans for any business size
Great customer reviews
Price
Starts free for up to 200 subscribers with unlimited notifications, then $12.50/month billed annually for up to 5,000 subscribers with welcome drip campaigns and more, and $15.83/month billed annually for up to 5,000 subscribers with subscription categories targeting A/B testing, and more
Why choose this
Subscribers is best for e-commerce businesses, bloggers, and media/publishers. You can easily add Subscribers to your website without having to code anything, too.
Get started with Subscribers Web Push Notifications. Sign up for free HERE.
2. PushOwl
Built exclusively for e-commerce websites, PushOwl's Shopify plugin lets you quickly set up and optimize push marketing campaigns.
Key Features
Ready-made automation for flash sales, price drops, back-in-stock alerts, and cart abandonment alerts
Unlimited subscribers
Send and schedule campaigns
Basic reports
Chat support
Price
Charges are determined by how many impressions your contacts receive, not by the number of contacts on your list. It starts free for up to 500 impressions/month, then paid from $19/month for 10,000 impressions and up.
Why choose this
This is recommended if you have a Shopify store.
3. Sendinblue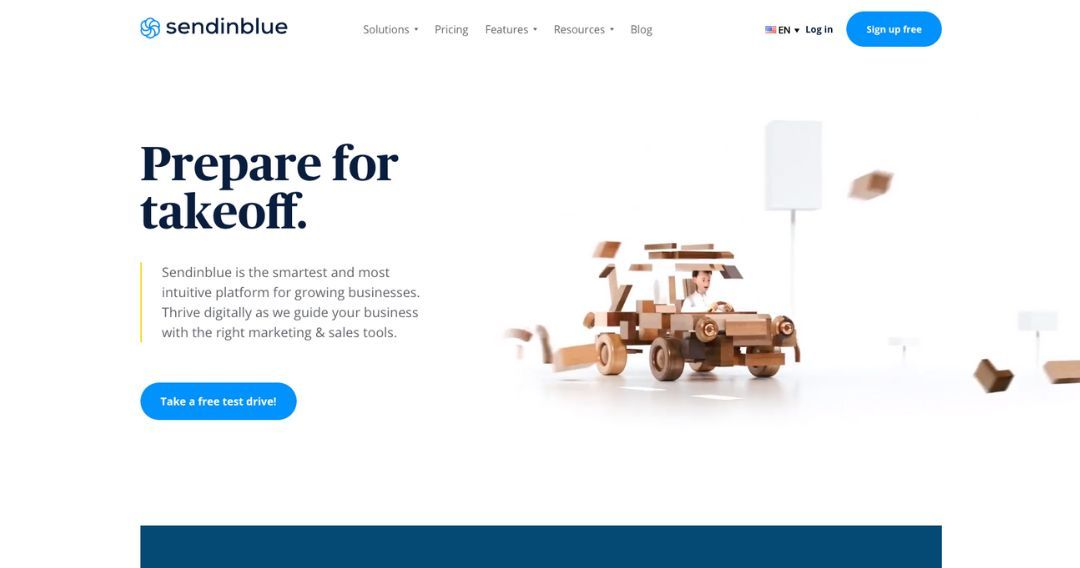 Sendinblue is an all-in-one digital marketing platform for business-to-business (B2B) and business-to-customer (B2C) businesses, e-commerce sellers, and digital marketing agencies. After it acquired PushOwl, Sendinblue offered web push notifications as another marketing channel on its platform.
Key Features
Easy installation with ready plugins for e-commerce platforms
Intuitive push notification campaign creation
Real-time monitoring and self-service reporting
Welcome notifications
Flash sale alerts
Triggered alerts
Browser abandonment notifications
Abandoned cart reminders
Segmentation
Custom attribution
Integrations with multiple Shopify apps
Price
Starts free at 500 impressions per month, then paid at $9/month for 10,000 impressions and up
Why choose this
Best for B2B and B2C businesses, e-commerce sellers, and digital marketing agencies
4. OneSignal
OneSignal has built a name for itself for push notification services in email, in-app, web, and mobile platforms.
Key Features
Quick and easy 15-minute setup
Segmentation targeting to personalize notifications
Real-time tracking using real-time data
Automated push notifications
Time delay for push prompts
A/B testing
WordPress integration and plugin
Price
Starts free for up to 10,000 subscribers with limited personalization, then paid plans at $99/month for up to 500K subscribers, and custom packages for enterprise-level subscriptions
Why choose this
Its setup and features make it ideal for beginners.
5. Firebase Cloud Messaging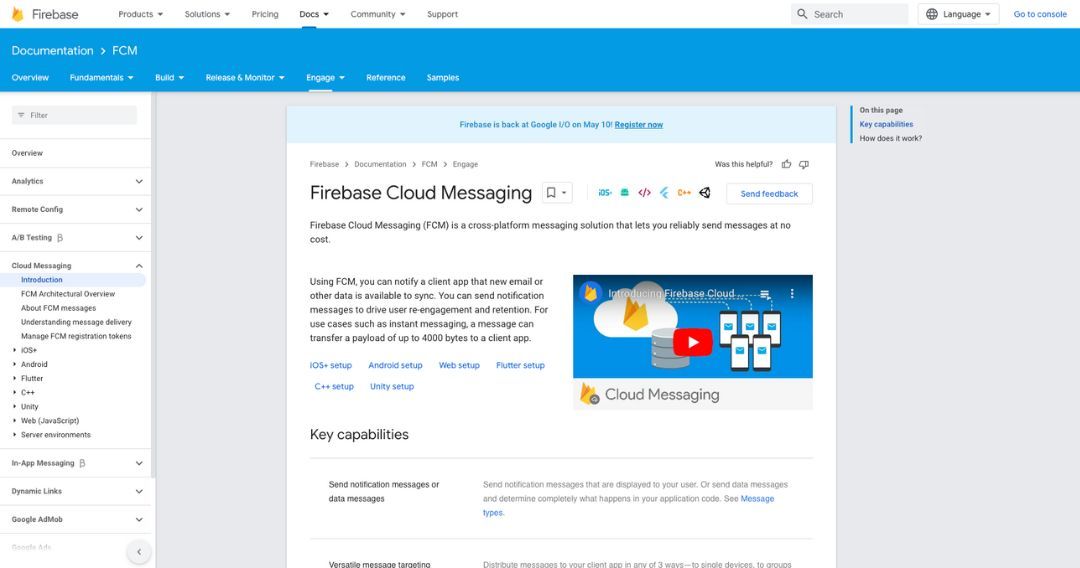 Google Firebase Cloud Messaging (FCM) is a cross-platform messaging solution that lets you send push notifications to app users. Using FCM, you can notify a client app that new email or other data is available for syncing. You can also send instant messages. FCM integrates with other Google services, such as Google Analytics and Google Cloud Platform.
Key Features
Similar to other Google tools, it's easy to use
Can be set up for Android, iOS, Web, Flutter, C++, and Unity
Sends notifications or data messages
Versatile message targeting
Sends messages from client apps
Contextual and relevant personalization
Strong for analytics integration
Customizable design and flexible formatting
A/B testing
Traffic monetization for publishers with over 1,000 leading publishers and media companies in its ad network
However, since it's not uniquely designed for push notifications as the other push notification services featured here are, there are some compromises in terms of extra features and functionality.
Price
FCM offers a free tier that allows businesses to send up to one million messages monthly. Paid plans start at $25 per month for up to one million additional messages.
Why choose this
Choose this if you already have the scale to send one million messages a month and you prioritize analytics integration over extra features and functionality.
6. PushEngage
PushEngage is a browser notification platform that enables content website managers to engage visitors and convert them. It also integrates with popular platforms such as Shopify, WordPress, and Magento.
Key Features
Triggered notifications
Dynamic segmentation
Cart abandonment reminders
Custom domains and branding
Goal tracking and analytics
Personalization
Automatic drip campaigns
A/B testing
Price
Starts free for up to 200 subscribers with standard notifications and limited support, then paid at $29/month for up to 100K subscribers and $49/month for up to 250K subscribers.
Why choose this
Easy to set up for beginner and advanced users; built for marketing teams and agencies
7. Aimtell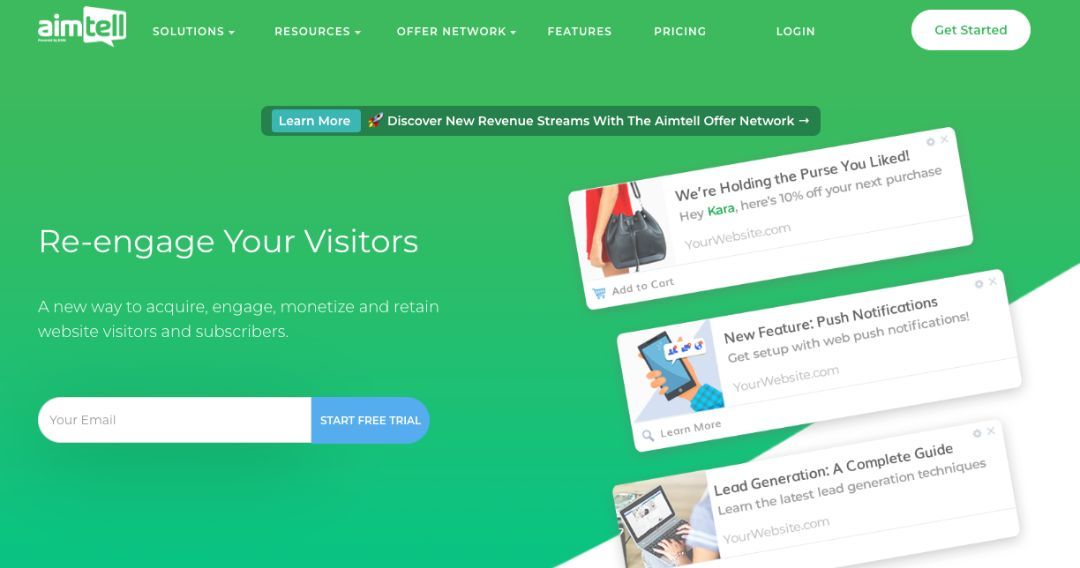 Aimtell specializes in highly personalized push messaging. You can fine-tune your push notifications based on page views, shopping history, locations, wish lists, and more.
Key Features
Highly personalized push notification options
Time-sensitive notifications can have expiration dates so your subscribers don't see them after they've lost their relevance
Option to run advertisements and get paid by its network of advertisers
Zapier integration
Limited segmentation
Time zone delivery
Abandoned cart notifications
Subscriber aliases
Welcome push notifications
Triggered notifications
Expiring notifications
Custom events
Custom opt-in prompts
Custom attributes
Cross-domain tracking
Price
Basic plans are $49/month for up to 10,000 subscribers. Premium plans are $99/month for up to 50,000 subscribers. Pro plans are $199/month for up to 100,000 subscribers.
Why choose this
Choose this if your core priority is customer re-engagement.
8. Airship
Airship specializes in mobile push notifications, as well as SMS messages, email, and mobile wallets.
Key Features
Deep linking
Integrates with Google Wallet and Apple Passbook
Tailoring to the operating system and geographical location
Open-source Software Development Kit (SDK)
Multi-channel messaging, targeting, and automation
Uses predictive artificial intelligence (AI) to personalize messages at scale
Segmentation
Rich notifications
Interactive notifications
Analytics and data reporting
Application programming interface (API) integration
Price
Their site doesn't discuss pricing but invites visitors to download and try their demo app or set up a test project with their open-source software development kit (SDK).
Why choose this
Choose this if your brand wants to master mobile app experiences to engage customers.
9. Pushwoosh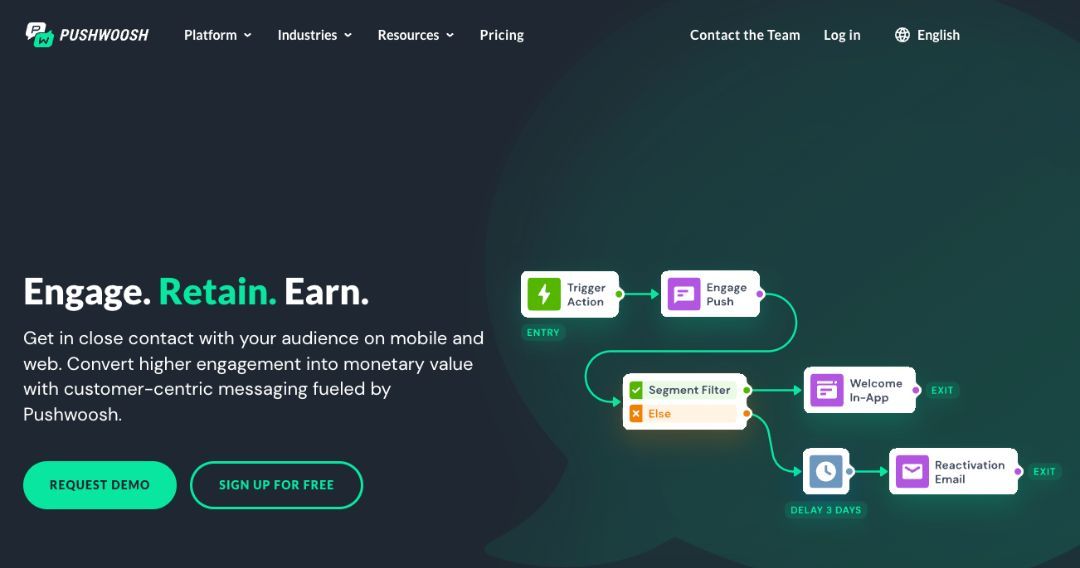 Pushwoosh is a mobile-inspired customer engagement platform that enables companies to send rich media push notifications by the millions, sending as many as 250,000 messages a day.
Key Features
Unlimited push notifications
Up to 50,000 subscribers
Rich media notifications
Cross-channel delivery
Customer Journey Builder
Basic segmentation and personalization
Integrations with popular software
A/B testing
Messaging analytics
Advanced reporting
API access
Price
It has Developer plans at $84/month, Marketing plans at $251/month, and Custom plan packages.
Why choose this
It makes omnichannel messaging easy.
10. iZooto
iZooto is a marketing automation platform that caters mainly to content-heavy media publishers, such as online news outlets and magazines.
Key Features
Supports a wide range of browsers and devices
Multiple campaigns can be managed from a centralized platform
Users can define notification templates
Customization of notification titles, messages, images, calls-to-action (CTAs), landing URLs, notification lifetimes, and more
Multi-language support
Price
Its Rise plan is $85 per month for up to 30,000 subscribers, while its Grow plan is $250 per month for up to 30,000 subscribers.
Why choose this
This is best for media publishers focused on retargeting, customer engagement, retention, and subscriptions. This is also recommended if you have multiple sites catering to different regions, time zones, and languages.
11. WebEngage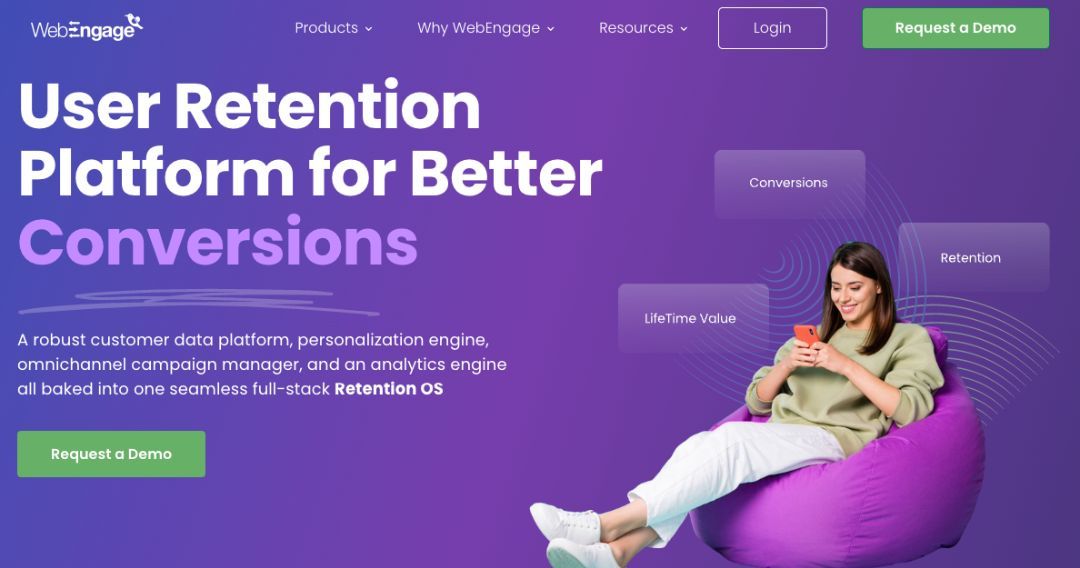 WebEngage is a multi-channel marketing automation software platform that supports multiple communication channels, including browser and mobile push notifications and more.
Key Features
With a data-driven model to engage off-site users
Compatible with every operating system (Android, iOS, Apple, Windows)
Compatible with every browser (Chrome, Safari, Firefox, Opera, Edge)
Dynamic templating
In-depth user-specific analytics
Test notifications before launching campaigns
Can build different campaigns (triggered, recurring, transactional)
Price
Custom pricing
Why choose this
Best for creative agencies
12. Amazon SNS
Amazon Simple Notification Service (SNS) has been around since 2010. It's compatible with Amazon Web Services (AWS), which allows you to send in-app push notifications across different platforms, including cloud-based notifications, to any internet-ready device.
Key Features
SMS notifications to more than 200 countries
Cross-platform adaptability
Redundancy across multiple SMS providers
Data reporting and analytics
Price
The first million mobile push notification messages are free. Then, you pay $0.50 for each additional million.
Why choose this
It's not as feature-rich as other push notification platforms, but it's low-cost and recommended for businesses already familiar with Amazon Web Services (AWS). It has no up-front costs, and you can pay as you go.
13. SendPulse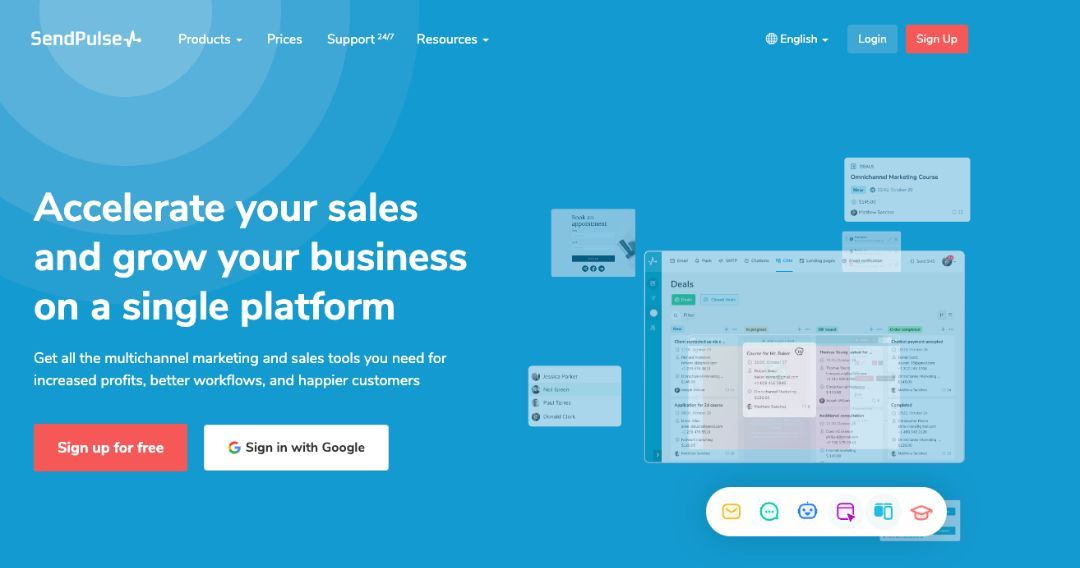 SendPulse is a cloud-based marketing solution that lets users manage email, text messaging, and push notifications through a single platform.
Key Features
Supports web push notifications and app push notifications
Web push notifications are supported in Chrome, Firefox, Opera, and Microsoft Edge browsers
Flexible platform
Custom subscription requests
Web push automation
Segmentation and personalization
A/B testing
Website monetization
Developer API for push notifications integration to user's content management system (CMS), customer relationship management (CRM), or other systems
Price
It starts with a free basic plan for up to 10,000 subscribers, then offers a paid Pro plan at $15.20 per month, billed annually.
Why choose this
Best for marketplaces and online retail chains
14. VWO Engage
VWO Engage (formerly PushCrew) is a push technology platform for customer engagement with support for a variety of situations. These situations can include connected calls-to-action (CTAs), sending notifications to Facebook Messenger, and an API to satisfy customization needs.
Key Features
Audience segmentation
Contact management integration
Smart triggered campaigns
Multi-website support
Custom images
Cart abandonment alerts
A/B testing
Timed notifications
Personalized notifications
RSS to push
Price
Custom pricing
Why choose this
Best for mid-sized retail businesses and large enterprises
15. Leanplum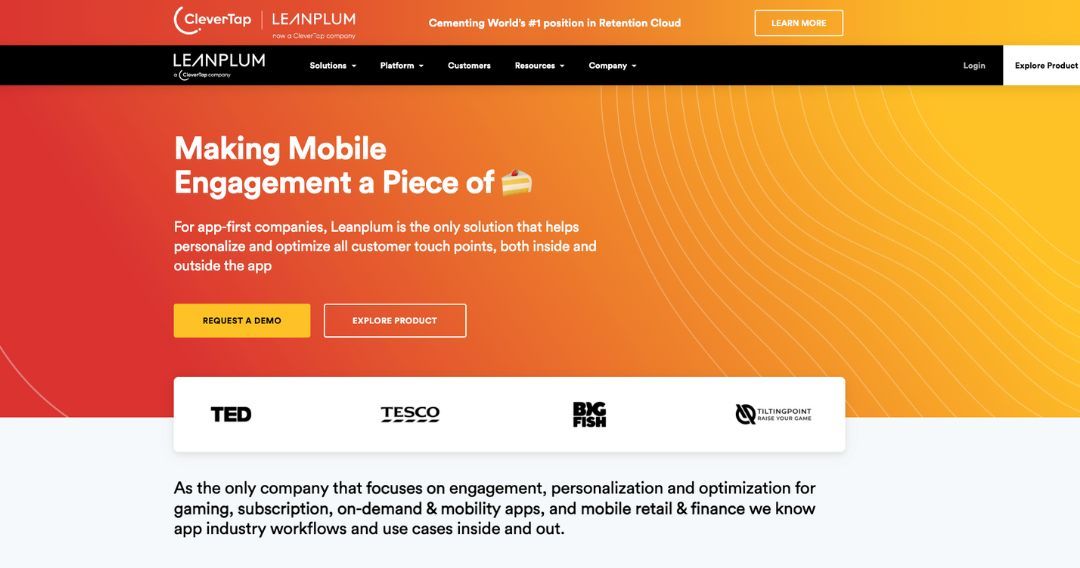 Leanplum is a mobile marketing platform that offers simplified creation and delivery of multi-channel push notifications.
Key Features
Multi-channel push notifications
Data collection for personalized user profiles
Push notification templates and previews
Delivery time and notification frequency optimization
A/B testing, reporting, and analytics
Price
Its website doesn't provide pricing information but invites visitors to try out their free, personalized demo.
Why choose this
Best for creating hyper-targeted campaigns and sending each message through the right channel (mobile, in-app, web, or email) at the right time
Who Is The Best Push Notification Service Provider?
If you are an e-commerce seller, a blogger, a media publisher, or a content creator who –
runs native news ads on your website;
Is just starting out with push notifications;
wants a simple and easy-to-use tool that gets your going quickly;
wants an effective tool to scale your business as your brand grows; and
wants to earn income from clicks on your notifications
Then Subscribers is best for you.
If we answer the question that we started with: Which push notification service will give you the most bang for your buck? Subscribers is still best since you can start for free as you grow to 200 subscribers, then spend only the equivalent cost of three to five cups of Starbucks coffee a month to grow it further to 5,000 subscribers.
"Best" is Who Matches Your Business Needs and Goals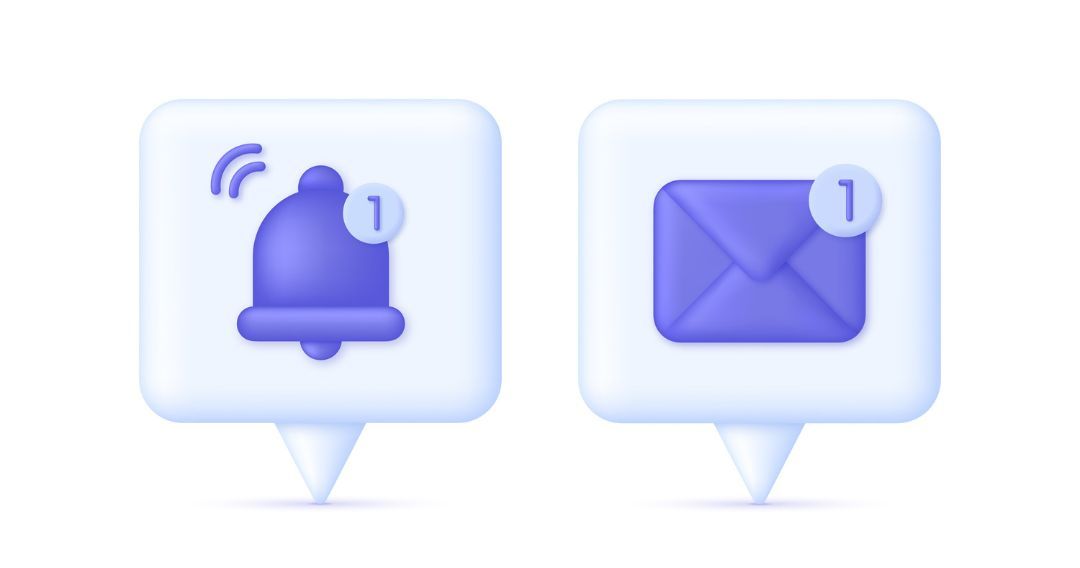 "Best" is ultimately relative to which push notification service provider fits your business requirements and direction. This is why, in our review of each push notification platform, we indicated which business types a particular platform is best suited for.
The best push notification service for you ultimately depends on the following:
Your marketing budget;
Your accurate understanding of what your customers want; and
Your clear identification of your core advantage over your key competitors.
Based on these, select the push notification service based on its pricing, delivery efficiency, customization features, analytics and reporting, integration capability, client support, and customer reviews.
The best push notification service provider is the one that best matches your business's needs and goals.