Creating content for your business is important.
It drives traffic.

It increases exposure.
And has people talking about your business.
But coming up with new content ideas is hard.
There's nothing worse for some business owners than staring at a blank page.

If this sounds like you, you're not alone.
Studies from The Content Marketing Institute note that "57% of B2B marketers say that producing content consistently is their biggest struggle."
Well, today's your lucky day.
Because we've done the hard work for you.

Here are 7 ideas you can use for your web push notifications to drive more traffic to your website.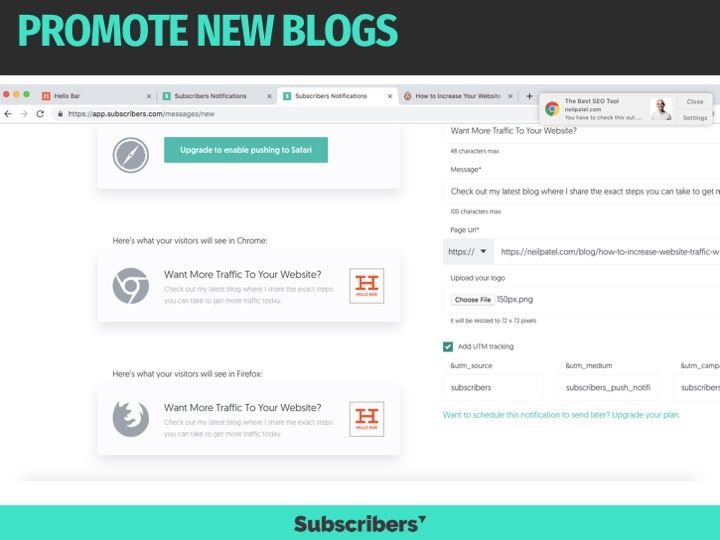 #1: Don't Annoy! Bring Value with Web Push Notifications

Don't let bad habits run rampant with your web push notifications.
Great tools come with great responsibility.
For one thing - spamming is unsurprisingly a bad idea, no matter the channel.
And generic notifications are not too helpful either.
Second - hard selling via web push notifications is a surefire way to get unsubscribes.
How do you find the balance between spammy and ineffective?
Think of push notifications as a sales assistant. Use them to guide your users down the customer journey you want them to go down.
They are little value adds along your customer journey.
What value can you provide?
Discount codes
Checklists
Mini-Courses
Quizzes that helps someone to make a decision
Free audio series
Free video series
The list goes on and on. What is key is that the value provides actually gets some quick wins and results for your website visitors.
Overall, your web push notifications should lead to something that truly benefits your user.
Finding that sweet spot of sending quality notifications takes trial and error.
But eventually, you'll discover what your audience can't resist.
#2: Create a Connection

The way you start a relationship creates a certain standard.
Make sure yours is gold standard.
A powerful way to do this is by creating a welcome series to nurture your users by delivering them unique, value-driven content.
But until you get that strategized, you can still begin with a few simple ideas.
The important thing to remember is you're trying to validate their decision of opting in and create a connection.
They want to know they've made the right decision to hear more about you.
This is your chance to bond and educate them, which will encourage them to open future messages.
A Harvard Business Review study found that businesses who attempted to reach their leads within an hour were almost 7x likelier to have meaningful conversations with decision makers than those who waited even sixty minutes.
Another study done by the Journal of Marketing Research noted that brands that create a higher emotional intensity get 3x as much word-of-mouth than less emotionally-connected brands.
You want to trigger the right emotions in your users to inspire a deeper level of commitment to your business.
You want them to know that their values align with yours.
You want them to know they're in the right place.
The first notification - and the content it leads to - is less about selling and more about connecting and educating.
The content that is linked to by any web push notification should be your best stuff.
So, make sure it's amazing.
#3: Make it easy for them to stand behind common values

Many marketers overlook the first message that's sent to a new subscriber.
You'd think it would be something interesting.
But it's usually just, "Thanks for subscribing! Bye."
Don't friend zone your new subscriber.
Charm them.
Instead of throwing the first message away, show how awesome it is to be a part of your community by giving them a way to express themselves.
Let the web push notification lead to copy that confirms your mutual values and beliefs about your industry - like a manifesto they can share and stand behind.

When it comes to shares, content like quotes, which is similar to a manifesto, tend to get 847% more retweets than questions.
This creates behavioral momentum that boosts their connection with your business and encourages them to open future messages.
#4: Make Buying a No-Brainer with a Coupon Code

E-Commerce businesses tend to give coupon codes out first.
That's because they're looking for the user to make their first purchase quickly.
Once a customer trusts you with their money once, it's likely they'll do it again and again.
So, make their first purchase easy by including a discount or perhaps free shipping.

One study discovered that those who received a $10 voucher increased their oxytocin levels by 38% and were 11% happier than those who did not receive a coupon.
Once they make their first purchase, the probability of selling to them again increases to 60-70%.
#5: Build Curiosity that increases trust and personal connection

Give them the itch to open your web push notifications by creating a sense of curiosity in your copy.
You can create this effect easily by sharing a success story, testimonial or your own personal success story.
This incites positive vibes toward your business from the get-go.
The key here is to ensure that your website users can see themselves in these stories.
They need to see the possibility and that they have the potential to achieve the results.
#6: Invite them to Your Community
If you already have an established community, this is a great time to invite them to it.
Plus, it reassures them to know that they're not alone in their struggles on their journey to your solution.
And the stats support online communities' ability to improve brand credibility.
Plus, online communities are proven to help your bottomline.
#7 Educate them
The evergreen optin gift can be used for your web push notifications, just as much as email.
Educate your users on something that builds greater awareness of their problems and gives them some insight into your solution.
Again, don't hard sell in your first message.
Your material should give them some new knowledge or perspective.
Your free gift can be a free pdf guide, audio recording, interview, or video.

You don't need to spend hours Googling for new content ideas to send to your subscribers.
Instead, put some of that time into creating amazing content that brings value to your subscribers.
That way, you avoid losing subscribers for low-quality content and create a strong connection from day one.
As a recap, here are a few ideas you can swipe and take action on right now.
Connect with your subscribers by giving them a manifesto of shared values to stand behind.
Make it easier for your subscribers to buy from your e-commerce store with an exclusive coupon.
Use curiosity to share an inspiring story of a happy customer and increase trust.
Invite your subscribers to your online community to let them feel part of a bigger movement.
Set your subscribers straight on the myths of your industry and build authority.
Teach your Subscribers something that helps them solve one of their problems.
Your content can be packaged in multiple forms, including pdf, audio, video, or in a series that combines them all.