Push notification strategies are rapidly emerging as a crucial way to engage audiences in 2023. Virtually every business today knows they need an omnichannel marketing strategy if they want to connect with consumers at every stage of their purchasing journey.
Connecting with customers directly through their smartphones is one of the best ways to ensure you can reach your audience wherever they are. After all, mobile internet access has soared over the last few years, and around 50% of smartphone users grab their phones the moment they wake up.
Push notifications can even help you reach your customers when they're browsing the web, thanks to browser-based technologies.
The right push notification marketing strategy can boost your chances of converting and retaining customers. In fact, some studies show push notifications can increase ROI by 2200%.
What's more, many consumers don't see push notifications as being annoying or disruptive. Around 70% even describe these instant alerts as helpful.
Here are 12 push notification strategies you can use to boost your chances of success in this evolving marketing landscape.
The Benefits of a Push Notification Marketing Strategy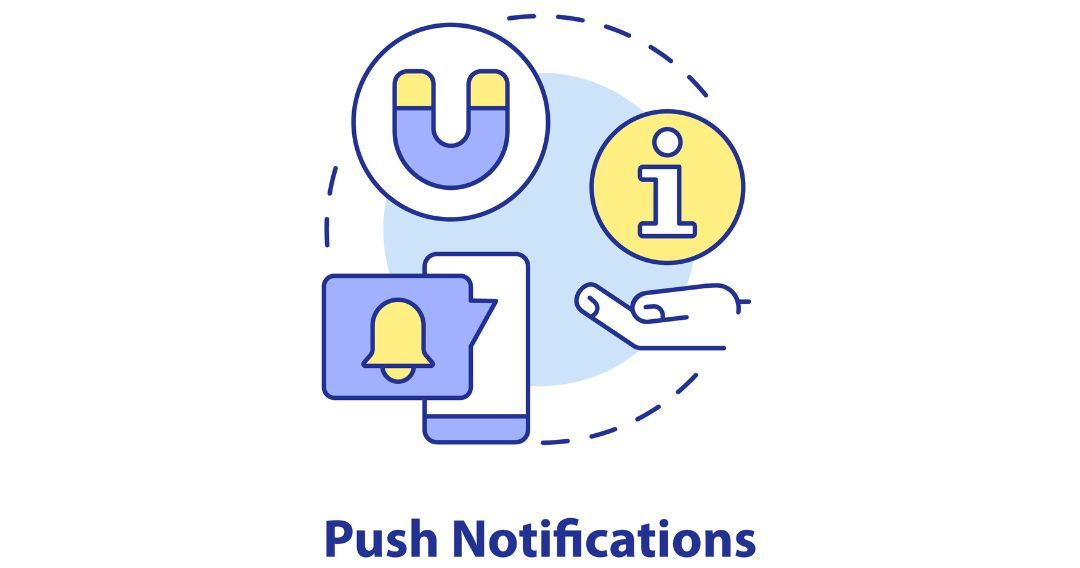 Push notification strategies involve using technology to automatically push messages to the home screen of a mobile device. You're not "texting" your consumers. Instead, you're delivering instant content to their screen in a fun and engaging format.
Just like SMS and email marketing campaigns, push notification strategies require users to opt-in to receive your messages. This helps to ensure you're connecting with customers who are actually invested in your business rather than just sending cold messages to everyone.
While push notifications don't get as much attention as other contact methods in the marketing world, they can deliver incredible results. Click-through rates on push notifications can be up to 50% higher than on emails. Plus, 68% of customers already have notifications enabled on their phones.
The same research shows these messages can promote 92% higher app retention, reminding customers about a business and its services. With push notifications, you can direct users to social media channels, promote products and services, increase conversion rates, and maintain engagement with customers who aren't already on your site.
12 Push Notification Strategies to Use This Year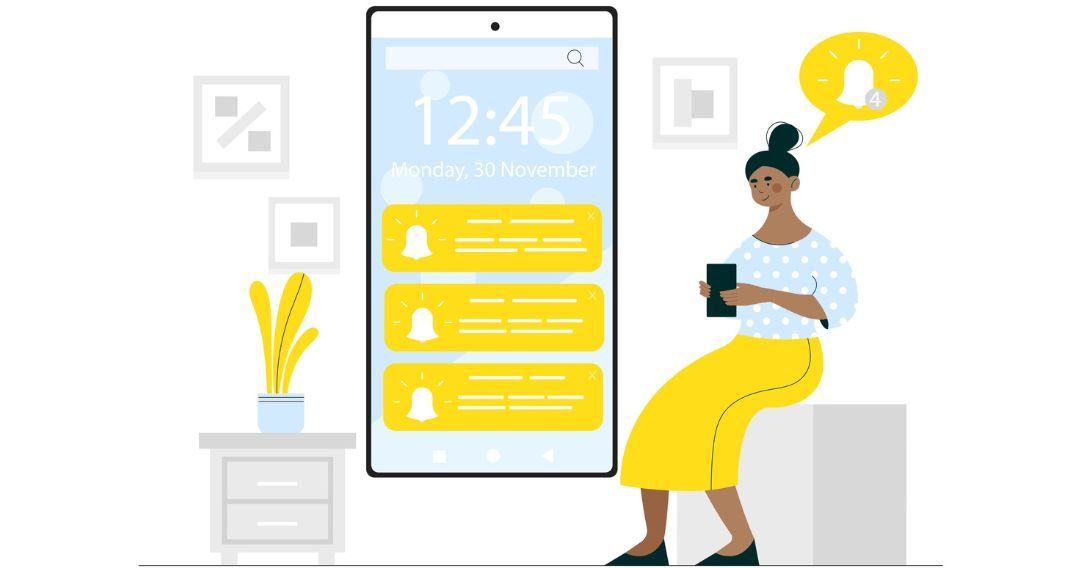 The best push notification marketing strategy, just like any other marketing strategy, will evolve over time as you learn more about your audience and their preferences. However, there are some strategies that seem to consistently deliver results.
Here are some of the best strategies to use in 2023.
1. Embrace the Power of Multi-Channel
While sending push notifications to subscriber phones is an excellent way to increase engagement and conversions, it doesn't have to be the only marketing strategy you use. In fact, you can improve your chances of success by experimenting with a range of methodologies.
For instance, push notifications don't have to be for phones only. You can also send web-based push notifications to your customers when they're browsing the internet. Web-based push notifications are an excellent way to ensure you can connect with customers constantly whenever they're online. They don't require customers to download any apps, they just need to approve your request to send messages to their browser.
This means ecommerce brands and business leaders can send immediate information about sales and promotions to customers whenever they're online.
Speaking of omnichannel, it also makes sense to connect your push notification strategy with other marketing efforts. While campaigns using push notifications increase retention rates by 71% on their own, this number increases to 130% when a second channel is added.
Combining push notifications with tools like email marketing software ensures you can continue to connect with your customers, even when they overlook your notifications on the web or their mobile devices. It's also a great way to encourage customers to "re-enable" push notifications if they choose to disable them for any reason.
2. Create Personalized Campaigns
In virtually every marketing strategy, personalization is often the key to success. Customers don't want to see generic messages and promotions. They're looking for information that feels relevant to them. With that in mind, think about how you can create more unique experiences for your audience.
Start by choosing a push notification platform that offers access to data. Leading platforms provide insights into the performance of your campaigns and allow you to segment your audience based on their preferences and needs. You can create segments of customers based on their location, device, or browser and target notifications to specific groups of users.
This strategy for boosting push notification success is backed up by data. According to one study of people who open and interact with push notifications, 54% say they're more likely to convert from segmented, personalized messages.
Take a look at Ticketmaster, for instance, the brand gathers information about which acts and artists the customer is interested in, as well as their location, to send relevant notifications about upcoming events. This ensures users aren't getting messages that don't apply to them.
3. Master Timing and Frequency
Timing is key to a number of modern marketing strategies. Just as it's important to publish social media posts at the time customers are most likely to see them; it's also crucial to ensure you're sending push notifications at moments when they'll be helpful rather than obtrusive.
For web-based push notifications, this often means timing your messages to appear at times when customers are unlikely to be busy doing other things, like work. You can use your analytics for insights into when customers are most likely to click on your content to help you.
For mobile-based notifications, it's worth ensuring that you're not sending messages when your customers are asleep or busy. While the right timing will vary depending on your target audience, a VWO Engage study found most people prefer to receive notifications in the mornings (38.66%), after work (36.69%), and on weekends (38.38%).
As well as getting the timing right, be careful with frequency. Reminding your customer that they have an item in their cart once per day might help them to complete a purchase, but don't overwhelm them with too many messages at once, or they may choose to unsubscribe.
4. Give Customers More Control
One easy way to ensure your push notification marketing strategy doesn't work is to remove control from your customers. If your subscribers can't alter how they receive messages, they're more likely to uninstall your app or turn your notifications off. If you worked hard with your app store optimization strategy to make your product stand out and attract downloads, only to irritate users to the point of uninstalling it, all that work would have been for nothing.
The best way to ensure customers feel "in control" is to provide them with an onboarding experience that shows them how to customize their messages. If you're sending notifications over the web, share an email or message with your subscriber, showing them how to enable "quieter messaging" on browsers like Chrome. This allows users to stop prompts from interrupting them at certain times.
For mobile-based notifications, give your customers options to choose what kind of information they receive and when they see notifications. Nobody wants to be woken up at 3 a.m. by a notification, even if they're being offered something fantastic.
Companies like Kayak allow customers to choose exactly what they want to receive notifications about, such as changing prices on retreats. This helps to keep opt-outs and uninstalls to a minimum and ensures users can get genuine value from the messages you send.
5. Link Your Push Notification Strategies to Actions
Linking your push notification strategies to your customer's buyer journey is an excellent way to ensure you're delivering content at meaningful moments. For instance, with the right push notification platform, you can connect your ecommerce platform and create automated campaigns based on things that customers do when visiting your site.
For instance, you might send push notifications when customers:
View a product: If a customer checks out a specific product, you can send them a notification reminding them about it at a later time, complete with benefit insights.
Abandon carts: If someone leaves your cart without making a purchase, you can send a dynamic notification with an image of what they've left behind.
Read an article or post: When customers check out a specific article or post, you can follow up with advice on other related content they might want to see.
You can also link your push notifications to specific actions your business takes. For instance, you might update your customers whenever a popular item comes back in stock, or when a product starts trending and earning a high number of sales.
6. Choose the Right Locations for Opt-Ins
As mentioned above, consumers have to opt-in to receive push notifications, whether they're getting them on a browser or mobile device. Knowing when to encourage your customers to opt-in to your campaigns is essential to ensuring success.
For instance, if you're creating a push notification campaign for your website, it won't always make sense to encourage customers to opt in as soon as they arrive on your home page for the first time. However, they may be more inclined to receive messages after they've read some of your blogs, checked out your products, or clicked on a sold-out product.
Some of the best places to request opt-ins include:
On product pages: If customers visit a product page, you can ask them to enable push notifications to learn when a product goes on sale or comes back in stock.
The checkout page: On checkout pages, you can ask customers to enable push notifications for updates about their orders or to receive product recommendations.
On blog pages: If customers are checking out your blog content, they might want to receive notifications when new articles go live.
Landing pages: On dedicated landing pages, you can ask customers to opt-in to push notifications to receive special offers or discounts.
7. Use Social Proof in Messaging
If you're struggling to convince customers to opt-in to your push notifications, one of the best ways to gain their trust is with social proof. Social proof can instantly enhance your push notification marketing strategy and elevate the credibility of your brand.
If users can see that other people are using your push notifications and getting benefits from them, they'll be more likely to opt in themselves. For instance, when you ask subscribers to opt-in to your campaigns, you can share a review from a customer, showing that they saved money with an exclusive offer or discount.
You could also use social proof by drawing attention to the number of subscribers you already have with a phrase like "X customers are already getting exclusive discounts."
There are handy tools available that can help you harness the benefits of social proof. For instance, TrustPulse is an app that automatically places pop-ups on your website, telling customers when other people have signed up for push notifications, or placed an order.
8. Incentivize Your Customers
Another push notification marketing strategy that can boost your chances of results is incentivizing customers. Although consumers are relatively open to receiving push notifications online and on their phones, they want to see evidence that they're going to get something in return.
People don't want to be bombarded by random messaging; they want genuine value. You could offer access to exclusive content or tell customers they'll be the first to learn about upcoming sales, new blog posts, and news.
Some push notification platforms allow you to create special coupon codes and vouchers you can offer customers when they sign up or subscribe to your messaging. For instance, the Saudi Arabian electronics brand eXtra promised customers a 20% exclusive discount when they enabled push notifications.
Notably, after implementing push notifications on their website, eXtra increased their year-on-year mobile growth by 100%. Plus, they found subscribers were spending twice as much time on their website and were four times more engaged.
9. Focus on Delivering Genuine Value
Convincing customers to opt-in to your push notification marketing strategy is just one part of the battle. You also need to ensure they're not going to switch your notifications off or opt-out in the future. To boost the chances of success with your push notification strategy, you need to think about how you can share interesting content with your audience while adhering to character limits.
Researching your audience and customer segments will help here. Find out what kind of information they like to receive by examining your audience's demographics and behavioral data. Once you've implemented a push notification strategy, you can also use your analytics to track the performance of each campaign over time.
A good example of a company offering genuine value with push notifications is JetBlue. The company uses push notifications to remind customers to check and keep them informed about upcoming deals and schedule changes.
By offering high-value, practical content, JetBlue ensures its notifications can actively improve the travel experience for customers. While the content the company sends won't always result in immediate sales, it does improve customer perceptions about the brand.
10. Embrace a Rich Notification Strategy
Push notification strategies don't have to be text-only. In fact, you're more likely to capture customer attention and earn conversions if you get a little creative. Notifications that support images, videos, and audio, otherwise known as rich notifications, are extremely effective.
One study conducted into the success of around 5 million messages showed that picture-based notifications received a 56% higher open rate.
Just remember to segment your audience so you're only sending rich notifications to customers who can actually open them on their browser or smartphone.
While you're experimenting with visual content in your push notifications, it's also worth taking the time to consider the benefits of emojis. Adding emojis to your strategy is a great way to make virtually any message stand out. Plus, it helps to showcase your brand personality.
11. Master Exit Intent
If you're looking for an excellent way to capture customers for your push notification strategies, exit intent pop-ups could be the way to go. Studies show that companies can recover over half of their abandoning visitors just by using exit intent targeting.
If your push notification opt-in CTAs and messages on your website don't immediately convert your customers, try grabbing their attention one last time before they leave. A pop-up reminding customers that they can get access to exclusive deals, discounts, or vouchers by signing up can work wonders.
Ecommerce websites can even use exit-intent pop-ups to promise personalized recommendations to customers when they sign up. This can be combined with discounts or references to similar products the customer might have looked at when browsing through the store.
Exit intent pop-ups can even work on mobile if your customers are browsing through a website using their mobile browser. There are various tools that can help you to build these pop-ups, such as OptinMonster. Here are some quick tips for exit-intent pop-ups:
Always personalize the content to reflect your customer's journey on your site
Promise genuine value or deliver something valuable, such as a voucher code
Make it easy to opt-in with a simple button (no long sign-up pages)
12. Optimize Constantly with Analytics
Finally, one of the best ways to elevate your push notification marketing strategies is to take advantage of analytics and insights. A/B testing, or split testing, is an excellent way to determine which of your push notification strategies are working to drive results.
You can use push notification marketing platforms to compare the performance of different action buttons, coupon codes, messages, or images. You can even experiment with timing, ensuring you're delivering content at the time that makes the most sense for your customers.
At the same time, it's worth leveraging any analytics tools your platform offers consistently. Pay attention to where the majority of your subscribers come from and which messages convince them to make a purchase. Track how often customers click on abandoned cart messages or content about inventory changes to help you upgrade your segmentation efforts.
The more data you gather on your push notification strategies, the easier it will be to create campaigns that resonate with your audience and drive results.
Mastering your Push Notification Marketing Strategy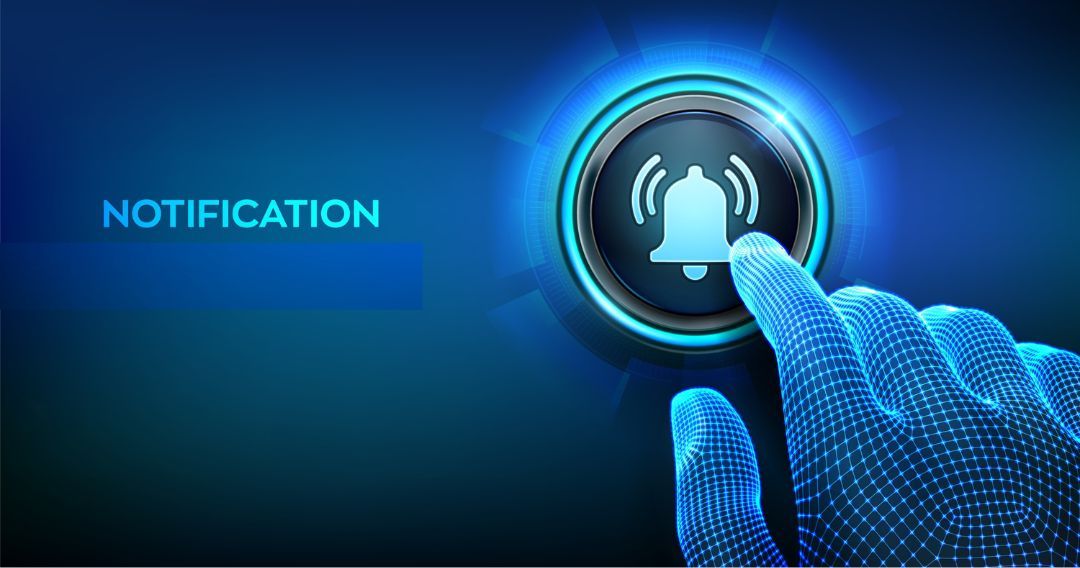 An effective push notification marketing strategy can be an incredible tool for any business. The ability to reach out to your customers instantly, through any browser or smartphone, ensures you can keep your business top-of-mind with your intended audience.
However, like any marketing effort, it's important to ensure you're implementing the right methods to boost your chances of success. Experiment with the strategies above, and make sure you're using a push notification platform that empowers you to make the most of each campaign.